How do I verify my site and using a site map for google within the sitebuilder?
Posted by Support on 26 September 2013 09:15 AM
Google Webmaster is a tool that assists you in managing Google's indexing of your site, and improving the traffic to your website. This is an advanced lesson for those who would like to make use of this option. We have made it possible for you to take advantage of Google Webmaster's website optimization tools. The following lesson will give you step-by-step instructions on how to verify your site and submit a Sitemap to Google Webmaster.
Step 1: Verifying Your Site with Google Webmaster
Before attempting to verify your site with Google Webmaster, your site needs to be published because you will need the URL of your site in order to submit it for verification. If your site is not yet published please do so.
Once your site is published, and you have the URL, head on over to Google Webmaster to get started. You'll need to create a Google account if you don't have one, otherwise you can just sign in.
On the homepage, you will see a welcome message with a hyperlink called "Add your site to get started". Click on this to bring up the site submission box.
Important: Fill in the URL of your published site, not the preview URL (the long URL you see when you preview your site from the Sitebuilder). Type in the URL of YOUR site. When you are done, click "Continue".
If you have a domain such as mysite.com please make sure to enter it into the field including the "www" so it appears like this: www.mysite.com.

Please ensure that you do not type your domain as http://www.domainname.com/. The "/" character will cause the validation to fail.
The next screen will give you options for verifying your site. It opens, by default, on the tab called "Recommended method". Please click on the "Alternate methods" tab and choose the "Add a meta tag to your site's homepage". This is very important, as it is not possible to verify your site using an HTML file.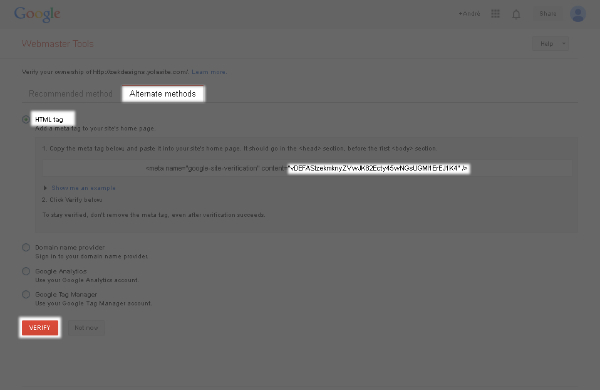 This is the tricky part! In order to successfully add the code to your site you need to copy the bit between the quotation marks (see the screenshot above). Including the quotation marks will cause verification to fail.

Now that you have the verification code it is time to apply this code to your site in the Sitebuilder. To do this:
From the top menu, click on Site > Tracking > Google Webmaster.
Add the code to the field box provided.
Click on the "x" in the top-right corner to save your changes.
Click on "Publish".
Once you have pasted the code and republished your site, return to the Google Webmaster screen and click the red "Verify" button.
Congratulations! You have completed the first part of the process. If you wish, you can now proceed to step two below.
Step 2: Submitting a Sitemap to Google Webmaster
When you publish your site, the site builder generates a sitemap on your behalf. You can submit this sitemap to Google Webmaster in order to give Google more information about your site. For more information on why you should submit a sitemap, click here: What's a Sitemap. The sitemap for your published site is your domain name, followed by: "/sitemap.xml". So the URL of my sitemap for my test site would be: "http://www.mysite.com/sitemap.xml".
On the Dashboard page (the same page you've just verified your domain on), click on "Submit a Sitemap" on the bottom right of the page, then on the next page click on "Submit a Sitemap" again. Your domain name will come up in a dialog box, enter "sitemap.xml" after this and click on "Submit Sitemap".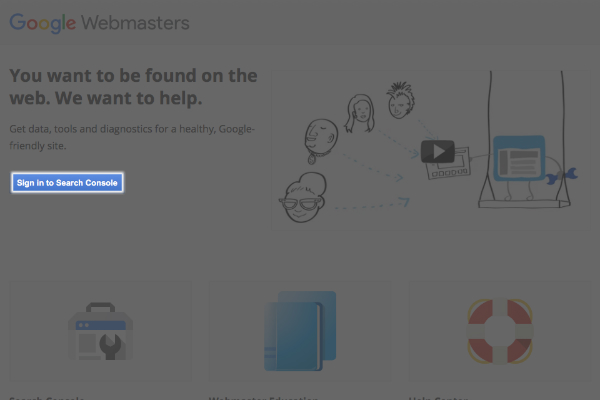 Your site will be verified and you should see the following screen:
Congratulations! You have now verified your site with Google Webmaster tools and submitted a sitemap. Once Google crawls your site you will be able to log into your Google Webmaster account for data that will help you optimize your site for search engines.
---